Why choose VoIP?
The Government has decided to phase out standard PSTN analogue copper phone lines by 2025. Old and no longer efficient they will be replaced by fibre, meaning we'll all have internet based phones. What does this mean for you? You need to start planning for the change, but it's a good change and we can help you out.
Voice over Internet Protocol (VoIP), is a technology that allows you to make voice calls using a broadband internet connection instead of a regular (or analogue) phone line. With VoIP phone systems you are never away from home or the office if you don't want to be. There are many other features and benefits to going VoIP also. See our long list of benefits below.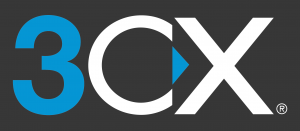 Why do we choose 3CX?
After working with many systems, we believe 3CX is the best option for any customer, whether big or small.  For us 3CX has been the easiest to install and manage and has so many features it's a no-brainer.  It really provides anything you could want in a phone system. 
The ability to use your phone number via a web client and iOS/Android apps makes the whole thing so user friendly and adaptable.  We love the integrated web conferencing. It's very easy to use and even when in a call you can simply click to invite the other user to switch to video whether on your mobile or using the desktop app. Transferring files, sharing documents and screens as well as presenting on a whiteboard is all included as well as much more.  Set your phone system up to work for you and save you time and money in the process.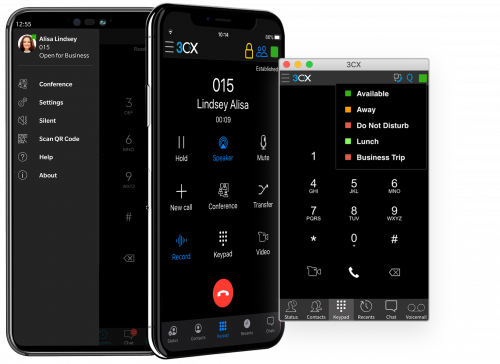 Benefits
Cheaper call charges – reduce your bill by up to 80%!
Work remotely from anywhere.  Access your phone anywhere from your mobile or laptop/PC
Set up rules for forwarding or answerphone messages easily
Manage your own extension, forward or set your personal extension as busy or out to lunch simply and easily
Have answerphone messages emailed to you and/or access through the system
Eliminate 800 number phone bills with WebRTC integration
Free and easy to call and message amongst employees
Integrated web conferencing for working off site or at home or with customers, attendees join in a browser. No app or account required.
Know who is calling
Use with or without dedicated phones
Handle multiple calls at once
Launch calls directly from your CRM; integrate seamlessly with MS Exchange, Microsoft Outlook or Internal Phonebook
Send & receive text messages directly from the web client and smartphone apps
Allow customers to chat, call or meet with you directly from your website and offer real time support face to face or via phone or messaging
Easy transfers of calls
CRM Integration
Automatically obtain reports on customer and agent activities
Microsoft 365 integration
Simple to set up
No need for employees to use their own phone numbers, use the app to call from the business number
Very scalable
Clearer voice quality
Easier to work from home
Better security
Answering service can be set up to act as a digital receptionist
Users can log into any phone with their own extension
Set up multiple numbers for your business
Integrate your Facebook business page so all incoming messages are directed to the web client meaning access to Facebook is not required for staff to answer messages.
Keep your analogue number – we can port any existing numbers to VoIP
Call queues to individuals or groups. Guarantee no calls are missed.
Advanced queue strategies mean your clients won't have as long to wait
Call back options can be set up as overflow during busy times.
Call recording options
Train operatives with a 'listen in' feature
Check service levels with reports
Live switchboard monitoring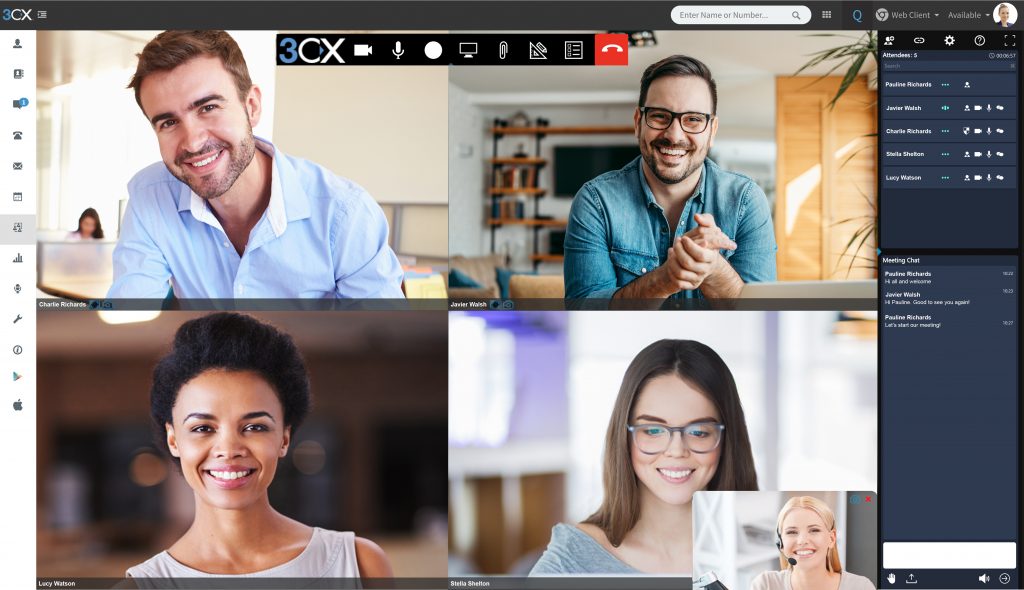 For more information about how 3CX could work for you, give us a call 01202 901530